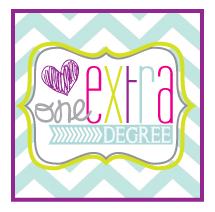 Ok, I have no idea if I am about to do this right, so I hope this works out. My friend Amanda over at
One Extra Degree
(her button is at right) told me this past week about this linky party thing being a great way to get your ideas out there and get more blog traffic. So..... here goes!
In Professional Development this week, I learned about the practice of "Reciprocal Teaching" and absolutely love how it will fit into Reading groups! I don't believe that groups should be defined as "guided" or "close reading" or "reciprocal" or even in some cases "literature circles". I see them as a hybrid mix of all those if they are to be most effective. Reciprocal teaching strategies provides a structure for me to teach guided or close reading within a framework that is consistent. Also, providing students with sentence frames and insisting that their answer be a complete sentence with a "because clapper" (see Whole Brain Teaching) takes their instructional level of reading to the next level. The teacher modeling each strategy first is key to the success of this practice, and using this as the structure of our lessons forces us to think aloud, which we often take for granted and do not do enough of. This was one of those PD's that I really felt was valuable right away :)
When you see a need, fill a need. I have been trying out a consulting opportunity for a local school. One of my former principals is the School Leader there, and sought me out to help out his small staff comprised of mostly first year teachers. So, for a couple of days a week, I can be found observing for best practices and making notes on strengths and weaknesses I see, meeting with individuals about their needs, etc. What I haven't figured out yet, after about a month, is exactly how to present the ideas and actually make positive changes in these educators' rooms. I am all about being practical, and that is what I want to provide them with--practical ideas to be implemented right away--but how best to do that without encroaching on territory is the hard part. So, once again I have found myself in uncharted territory, making new relationships and showing what I can offer one little bit at a time. I may jump in to redirect a behavior (this is an urban setting) or take over a small group that is off task when I walk by. I am still thinking about how best to present ideas, but in the meantime, when I see that someone needs help, I help. And that has been a pretty cool way to spend my time :)
Primacy- Recency is a very real issue in our rooms that we don't often consider when we plan. This short pdf with graphics shows that our students' "prime learning time" begins about 5 minutes into a lesson, peaks at about 12 (that when you've really got them!) and then declines for awhile when we need to give them two-ish minutes of independent or partner chatting. Next, at about 17 minutes in, they have more prime time-- but then it only lasts for like, 5 minutes. So, theoretically as masters of lesson pacing, we should be hitting the new concepts the hardest, with the material that is most literal at those "prime times". Food for thought....
Centers can be thought of in so many different ways sometimes it can be overwhelming if you don't commit your classroom to one process. I am referring more to the planning process for the teacher than the experience for the students. Basically I was preparing a presentation to show the teachers I'm working with, and I found myself outlining a writing center, word work center, independent reading center, etc. Then I got to thinking even MORE, and realized that depending on the learning standards you're addressing and the way you want to plan out how often you change your centers to keep them engaging, you may want to make them all , say, about sight words or all about synonyms/antonyms. So instead of kids rotating through writing with the teacher about their favorite color and then moving on to read to themselves about sharks, followed by highlighting sight words in a poem, they instead rotate to each center and each center is about sight words. With the teacher, it's writing them, while at independent reading it is key rings with words on them. At the listening center, its reading the words to each other..... Sigh, so much to consider! Thoughts?
Consensograms are Cool-- and should be used in every room, I think :) I love that they can be visited before, during, and after a week of learning about a standard. I love that there is a non-linguistic representation for the kids to see where they are in understanding with relationship to the whole group. They look awesome, too. I will let the pics say the rest:
Thanks for reading :) How was your week?
Stefanie